My last guest post comes from Jessica of Midwest Muse. I've loved Jessica's style ever since I first discovered her blog (plus, I love anyone who proves that people in the Midwest can have style), but over the past couple of months I've really come to love her as a person. I can't think of anyone who could be easier to work with starting Flock Together and she's someone who I can see myself being good friends with in real life. Have fun reading about one of the best Forever 21 finds I've ever seen!
----------------------------------------------------------------------------------------------------------------------------------------------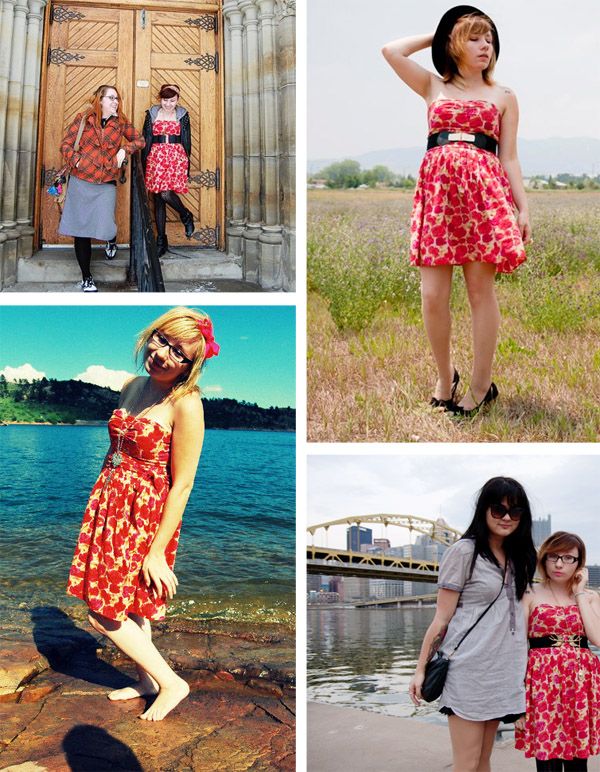 Hello! Jessica from
Midwest Muse
here sharing a story about one of my most loved dresses.
I bought this dress from Forever 21 on a whim several years ago. Buying from Forever 21 is always a gamble and especially from F21 online. I had no real expectations for this dress and I'm fairly certain it was less than $20. It arrived and I was in awe. The dress is incredibly thick and sturdy. It's breezy light weight and has the right amount of movement to make it transitional between the seasons. It's also a great length for modesty and all occasions that require it.
I don't know when I realized this dress was a go-to for me. If I don't know what to wear, I throw this on and I'm good to go.
I've worn this dress in just about every state I've ever visited. If there's one dress that everyone I know has seen me in, it's this one. In the winter (top left), I wore this on a mini-trip to Detroit where I spent time with my beautiful and lovely friend Katie. Two of these photos were from different trips to Colorado (many years apart) and the last picture was in Pittsburgh from a show. Over the past four years I've worn this dress all over the country and in more cities than I can remember.
This is THE traveling dress. It's been all over the country, to shows, to dinner parties, to the bar, with best friends, old friends, and on and on. This dress has been with me for some of the best and most important moments in my life and that's why it's one of my most worn dresses and I hope it will continue to travel from state-to-state, town-to-town and through my many circles of evolving friends.